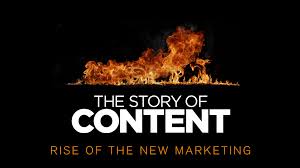 Last month I was invited to attend the world premiere of The Story of Content: Rise of the New Marketing. Held at the Rock and Roll Hall of Fame on the eve of Content Marketing World, the documentary explains how the future of marketing lies in brand storytelling. It's essential viewing for anyone working in marketing but especially useful for small and medium-sized business.
New Documentary Explains Burgeoning Marketing Strategy
The video last about 45 minutes and traces the history of content marketing. If you're worried it's a long time to hear marketers marketing to marketers, don't worry. While there is an element of marketing experts speaking about content marketing, there are also plenty of brand managers sharing their experiences and academics that have spent time researching content marketing effectiveness.
Best content marketing explainer video of all time
As you would expect of a film about content marketing, the production qualities are excellent. The Content Marketing Institute's Amanda Subler, with Brightcove as executive producer, produced the film. Watch for yourself to experience equal parts of education and entertainment.
Why you should watch The Story of Content
If you're having a hard time explaining to your management about why you should adopt a content marketing strategy, show them this film. If you're unsure about whether content marketing makes sense for your small business, watch this film. If you're battling for budget for content marketing and competing against PR, advertising and traditional marketing, watch this film.
If you would like more information about content marketing or using brand storytelling to promote your business, get in touch with me. I'd love to chat with you about what it takes to set up a brand newsroom for your business.
What is your view on brand storytelling?