Content Marketing World took place last week in Sydney. I presented at the three-day event (that's the storyboard of my globalisation presentation) and attended as many sessions as possible. Acting on one of the key recommendations, I've resisted the "race to report". Instead, I have intentionally deliberated the good, the bad and the ugly parts of the conference and share them here with you. One thing's for sure, content marketing in Australia is entering a new phase and it brings both positive and negative aspects.
Don't rent
Joe Pulizzi, founder of the Content Marketing Institute, opened the event with advice to quit building content and communities on platforms you don't own. Speaking about social networking and sharing sites, he mentioned a few popular channels including Facebook. His view is that when you spend time and effort building pages of content on an address you don't own, you're only renting space. Sites like Facebook, LinkedIn, Instagram and Twitter are encouraging you to become ensconced in their properties.
I think Joe is right about this. Over the past year, we've seen less return on our rental properties as they all pursue ways to earn more revenue. Facebook, in particular, is making it hard for brands to gain influence within their own communities unless they agree to promote posts.
Bobbi Mahlab from Mahlab Media presented an excellent case study on the benefits of owning your own property.  IPWEA – The Institute of Public Works Engineering Australasia – has painstakingly created online communities attached to its own website and is enjoying impressive traffic and community engagement. The Institute's key to success lies in an integrated content strategy combining email, online and offline content.  This,in turn, has created revenue opportunities for IPWEA.
Integrated content at @IPWEA opened new revenue streams – even from advertisers previously unknown. Content attracted advertisers. #cmworld

— Sarah Mitchell (@globalcopywrite) April 1, 2014
Tell stories
The battle cry of the conference was "tell stories" with your content.  Bernadette Jiwa, brand story strategist and author of Difference, gave a passionate keynote address dedicated to storytelling. Her view is that marketing is not a department but should be the centre of storytelling excellence in your company. It's also the way you create difference for your brand. Jiwa raised a few eyebrows when she said, "empathy is the most underrated business resource we've got." She made the point that consumers make decisions based on emotion because humans are "feeling people who think." If you've ever had a "gut feeling", you know it's true.
People buy with their hearts, not the head. Marketers try to appeal to the head. Big fail. @bernadettejiwa #cmworld

— Sarah Mitchell (@globalcopywrite) April 1, 2014
Personally, I was blown away by Jiwa's presentation, but I know there were eyes rolling in the room. That's a big problem in the Australian content marketing industry. Many service providers – and brands to a certain extent – are still looking for an easy answer to content marketing. Telling and writing good stories is hard. If you're not prepared to do either, I say you should get out of the content marketing space altogether.
If you're one of the skeptics, consider Black Milk Clothing. They're a Brisbane-based company with the most ebullient following you could imagine. They've never spent money on advertising but rely on storytelling to market their company. According to Cameron Parker, Head of Sales & Marketing at Black Milk, they tell stories at every opportunity. Their sales receipt comes with a 556-word note that does nothing but make you feel like you're part of their gang.  That's just a tiny example of how bringing your customers on a storytelling journey creates brand loyalty no amount of corporate-speak can manage. Which brings me to the next lesson . . .
Get "off message"
Tim Washer, social media lead at Cisco Systems urged content marketers not to insult the intelligence of our collective audiences. He spoke about the problem with "creativity by committee" and why it almost never works. He also addressed the insistence by many companies to plaster logos and brand messages on every piece of content. Washer reminded us that our consumers are smart, and deluging them with marketing messages is one of the least effective ways to communicate.
Trust your audience to figure things out. Don't clobber them over the head with our brand identity. Advice from @timwasher #cmworld — Sarah Mitchell (@globalcopywrite) April 2, 2014
Washer is a funny guy with serious comedy credentials, but he insists anyone can successfully add humor to their content.  He proved that by showing funny videos on staid topics from both IBM and Cisco.
Be remarkable
An indication that content marketing has matured was the repeated recommendation to do something amazing with your content. It's becoming obvious many of the content marketing practitioners have figured out that producing content can be a grind. I definitely include myself in this category. While two or three years ago the conventional wisdom was to create a lot of content, the advice this year centered on creating great content, amazing content, remarkable content. Both Robert Rose, Chief Strategist at the Content Marketing Institute, and Tim Washer counselled attendees to spend time working on nurturing our creative brain.  The internet is awash with mediocre and rotten content right now. Creating more of that isn't going to cut through anything.
The recurring theme was importance of quality. Quality of content, of ideas, of creativity, of execution, of originality. #cmworld — Martin Wanless (@martywan78) April 2, 2014
Agencies are wrecking the joint
One thing that surprised me this year was how many agencies were in attendance. Content marketing has become a buzzword in Australia and there's a bandwagon mentality in play. It seems like the SEO and social media gangs are viewing content as a bolt-on tactic and that should raise alarms for brands. Most of the marketing content from these groups is weak, which is a worry. If you can't create awesome content for your own business, how are you going to do it for a client?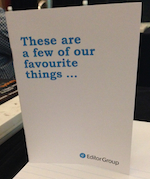 There are notable exceptions, of course, like Mahlab Media who was mentioned earlier in this post. I loved the brochure from Editor Group, self-professed literary geeks, word nerds and pedants for punctuation. It's a little booklet giving excellent examples of content, why they love it and the lesson learned from each one. I read the whole thing, cover to cover. When was the last time you did that to a marketing brochure? I'm sure the alphabet runs through their blood stream.  I'm also encouraged to see Cirrus Media has journalist and content marketing expert Jonathan Crossfield contributing to their blog, along with folks like Jeff Bullas and Edwina Lawry.  These are the kind of groups I want to help with a content marketing project and ones I'd recommend to my clients.
Another one to watch is King Content. Craig Hodges started "King" in 2010 and was one of the first people in Australia to recognise the shift in marketing. King Content recently opened a second office in Melbourne. Interestingly, Hodges hired Todd Wheatland, the former CMO at KellyOCG, as Head of Strategy. That, to me, speaks volumes about King Content's commitment and vision towards content marketing.
The ugly bit
There's no doubt the industry is maturing, but we still have a long way to go in Australia. We didn't see a lot of Australian brand stories this year, indicating we have a lot more work to do creating successful content marketing programs. I got pretty sick of hearing vendors bleat about their own products and was surprised how often this happened during presentations. I expected to hear from sponsors of the different streams by way of session introductions, but really wish the hard sell was left to the exhibition stands.
There was also an undercurrent of superiority in some of the attendees that bothered me. In some cases it felt like people were going to sessions not to learn but to find fault. There were rumblings that there were too many international speakers, an assertion I find flabbergasting. We're not on the bleeding edge of content marketing in Australia – far from it. If we, as an industry, can't recognise the value experience brings, then I'm worried about the quality of service being delivered to Australian brands.
In one session I didn't attend, the speaker was heckled from the floor. Knowing what it takes to put together an hour-long session (hours upon hours of preparation) and the guts it takes to stand in front of your industry peers and speak, I find it appalling. I would hope these issues are addressed directly with the conference organisers in the future. The content marketing culture in other countries, especially the USA, is open, inclusive and supportive. It will be a complete shame if we can't foster that here. I hope these aren't early warning signs that the backbiting and sniping rife in the PR and advertising sectors are coming across to content marketing.
"I find it very hard to believe you actually manage a team"… @Mac_Content gets HECKLED by the #cmworld audience. Ahem

— Property_Banter (@PropBants) April 2, 2014
Overall impressions
I came back from the event exhausted and inspired. What more can you really ask from a conference? I'm encouraged to think we're moving away from strategies focused on volume and vanity metrics to one of quality storytelling. When I hear about examples like IPWEA and Black Milk, I get excited about the opportunities we have to do something very different with marketing.
But, like every other content marketing conference I've attended, the call to action is daunting. This year I commit to getting more sleep, spending more time thinking and less time doing. I'm giving myself permission to focus on the creative side of content creation. I'm convinced this shift will produce improved quality and go a long way to creating amazing content strategies.
 Did you go to Content Marketing World Sydney? What were your impressions?