New research from the Content Marketing Institute and MarketingProfs is encouraging for those of us who have put their faith in content marketing. More than 2500 people took the 7th annual survey aimed at B2B businesses in North America. An overwhelming majority, 89 per cent, said they use content marketing, with 97 per cent reporting success with the discipline. Another five per cent plan to start using content marketing this year.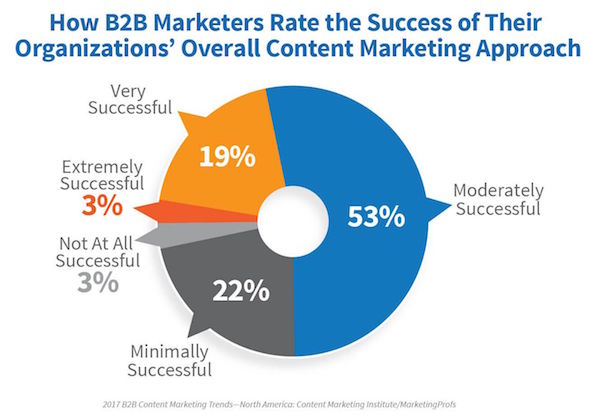 Strategy and quality biggest factors for success
It's no surprise the content marketers with the most effective programs start with a strategy. That's been reported for several consecutive years; this year 72 per cent say strategy is a factor for success. In a sign of maturity for the discipline, higher quality content is named as the top indicator for success, with 85 per cent of respondents claiming quality is beating out quantity in content production.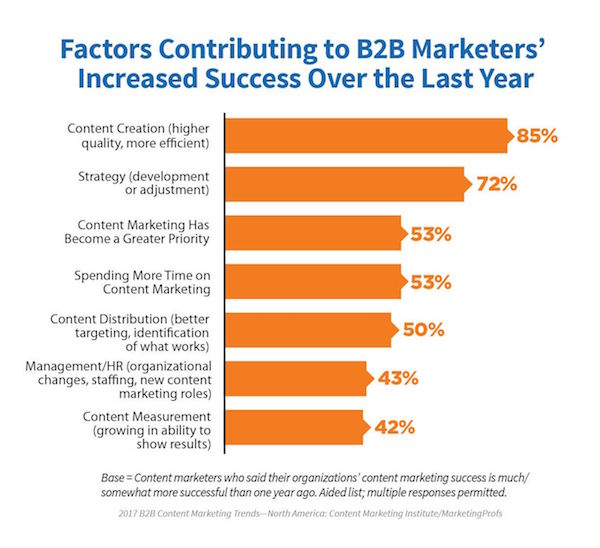 Commitment to the long-term is paying off
New information in the 2017 report shows those marketers who stay committed and make content marketing a priority are enjoying better results. This is great news for those of us who have patiently built content assets over time. It's also the biggest indicator to date showing a campaign mentality does not work for content marketing.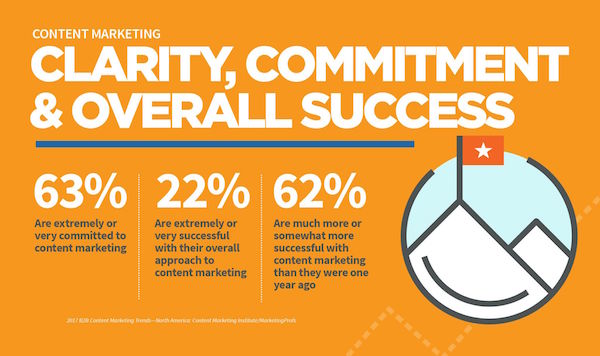 Content marketing works hard in small business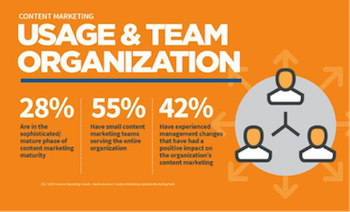 If you don't have a big marketing team, you're not alone. Fifty-five per cent of content marketing is done by small teams – or one person – for the entire organisation.
Another encouraging finding is the content that's most critical to content marketers is within reach of any business, large or small. The tactics considered most critical include:
Blogs – 52 per cent
Email newsletters – 40 per cent
Social media – 40 per cent
Ebooks/white papers – 38 per cent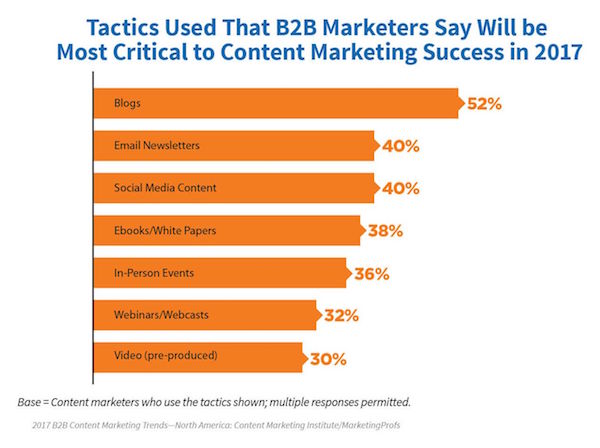 The channels most widely used to distribute content were reported as:
Email – 93 per cent
Twitter – 77 per cent
Facebook – 76 per cent
Additional info about the 2017 report
For more insight into this year's report and the reasoning behind the changes in the questions asked, listen to the Brand Newsroom discussion with CMI Vice President Michele Linn.
You can see the whole report here:
Keeping on top of content marketing news
If you'd like a weekly dose of content marketing insight, why not subscribe to my Brand Newsroom podcast on iTunes . Every week my co-hosts, James Lush and Nic Hayes, and I spend 20 minutes discussing topics about how to communicate with your audience more effectively.
What surprised you about this year's report?