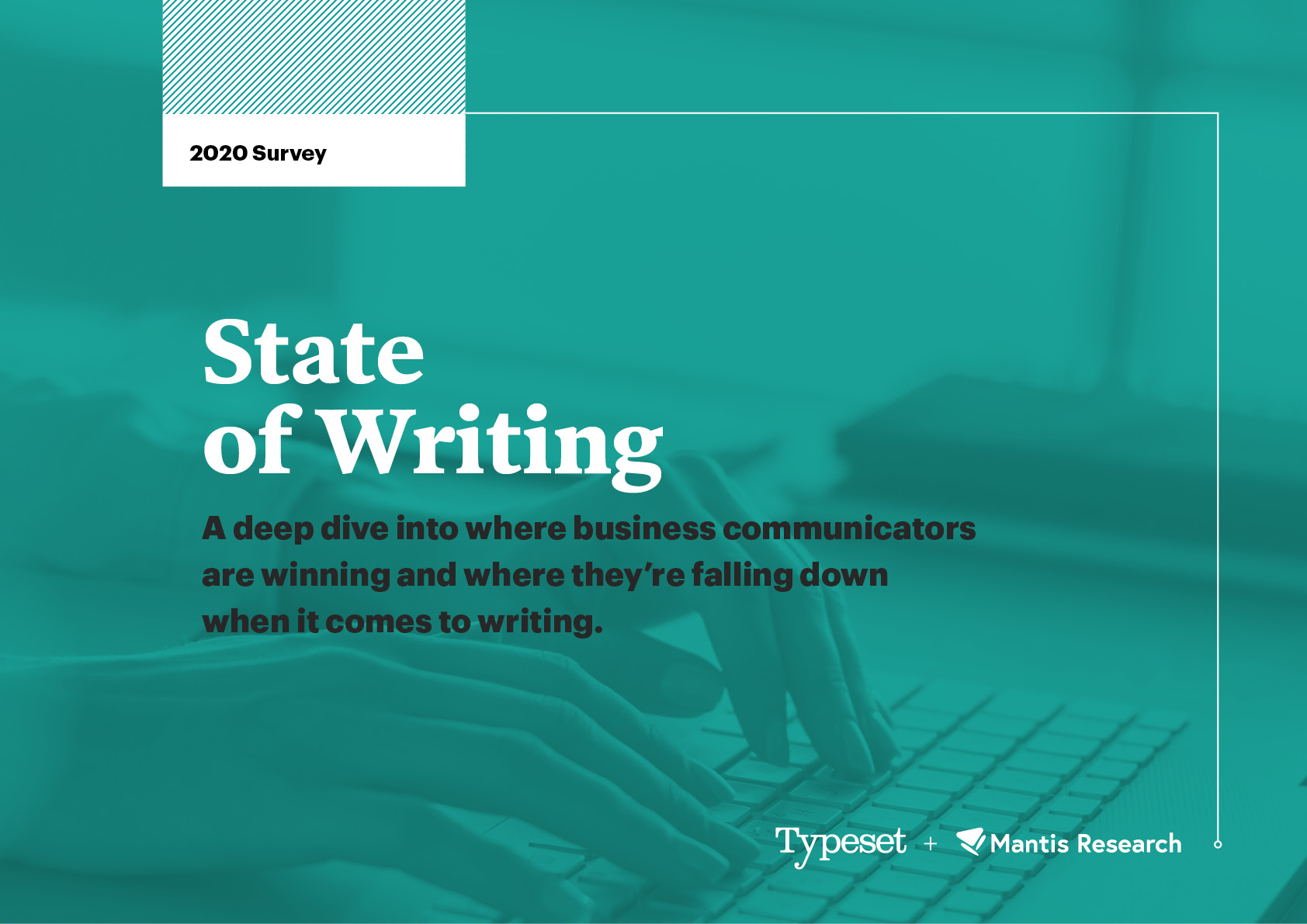 Do you know the secret to effective writing? When I say effective writing, I mean writing that has a positive impact on your business. This is what I wanted to find out when I opened a survey into writing effectiveness last September at Typeset. The results are in: State of Writing 2020 compares the most effective business communicators with those who have room for improvement. We partnered with Mantis Research to conduct the survey, collect data and help analyse the results. Here's what we found out.
Key findings from State of Writing 2020 research
The majority of business communicators know what success looks like, but fewer than half consider themselves successful.
Nearly half of communicators aren't sure what their audience wants to read.
Quality control in their writing process is lacking.
Communicators are too focused on increasing quantity.
There's a big opportunity to focus on more meaningful metrics when measuring writing effectiveness, but we tend to go for the easy options.
Communicators are struggling with (or not prioritising) SEO despite the vast majority of writing being published online.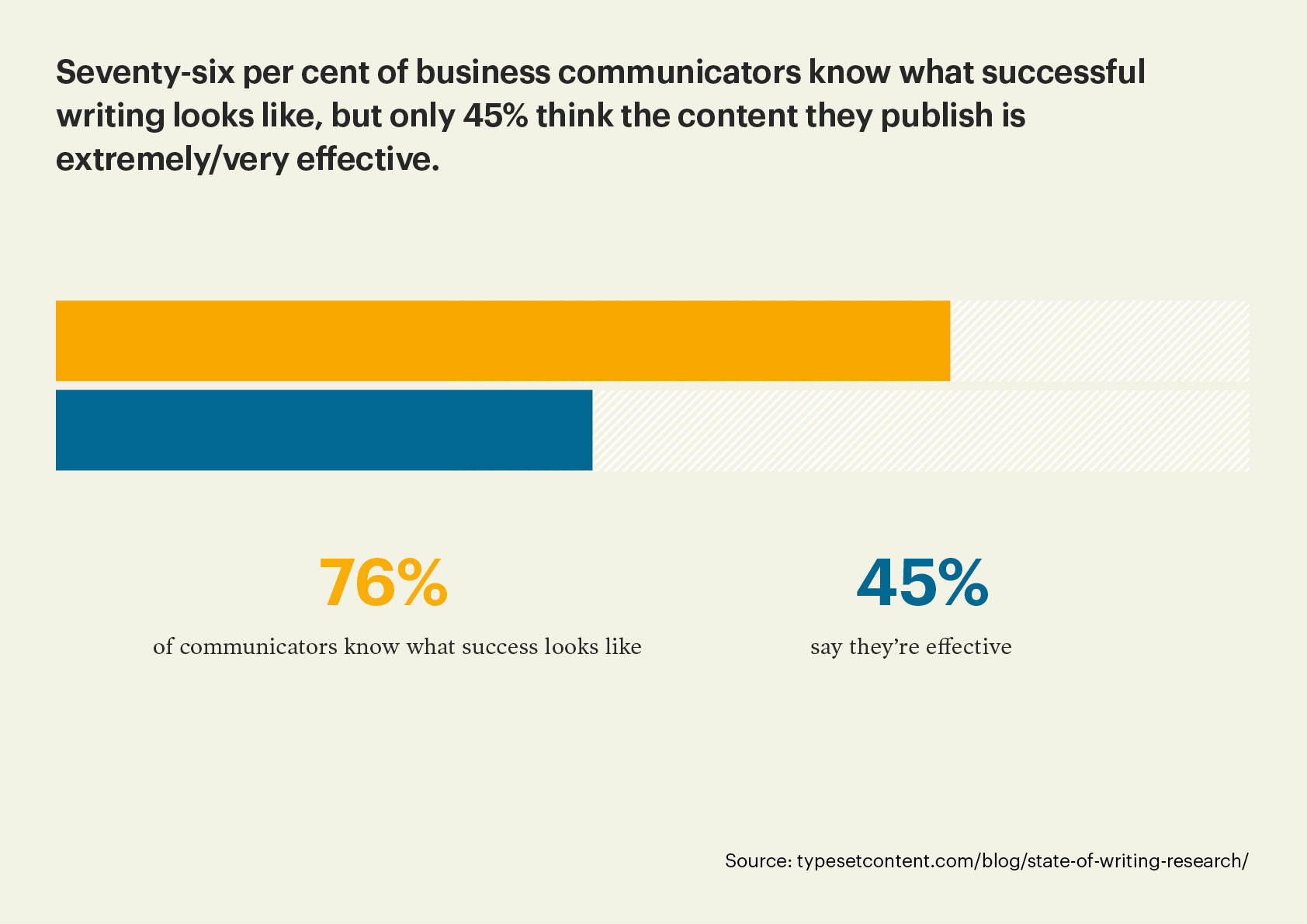 I was surprised to learn how few business communicators are getting what they want from their writing.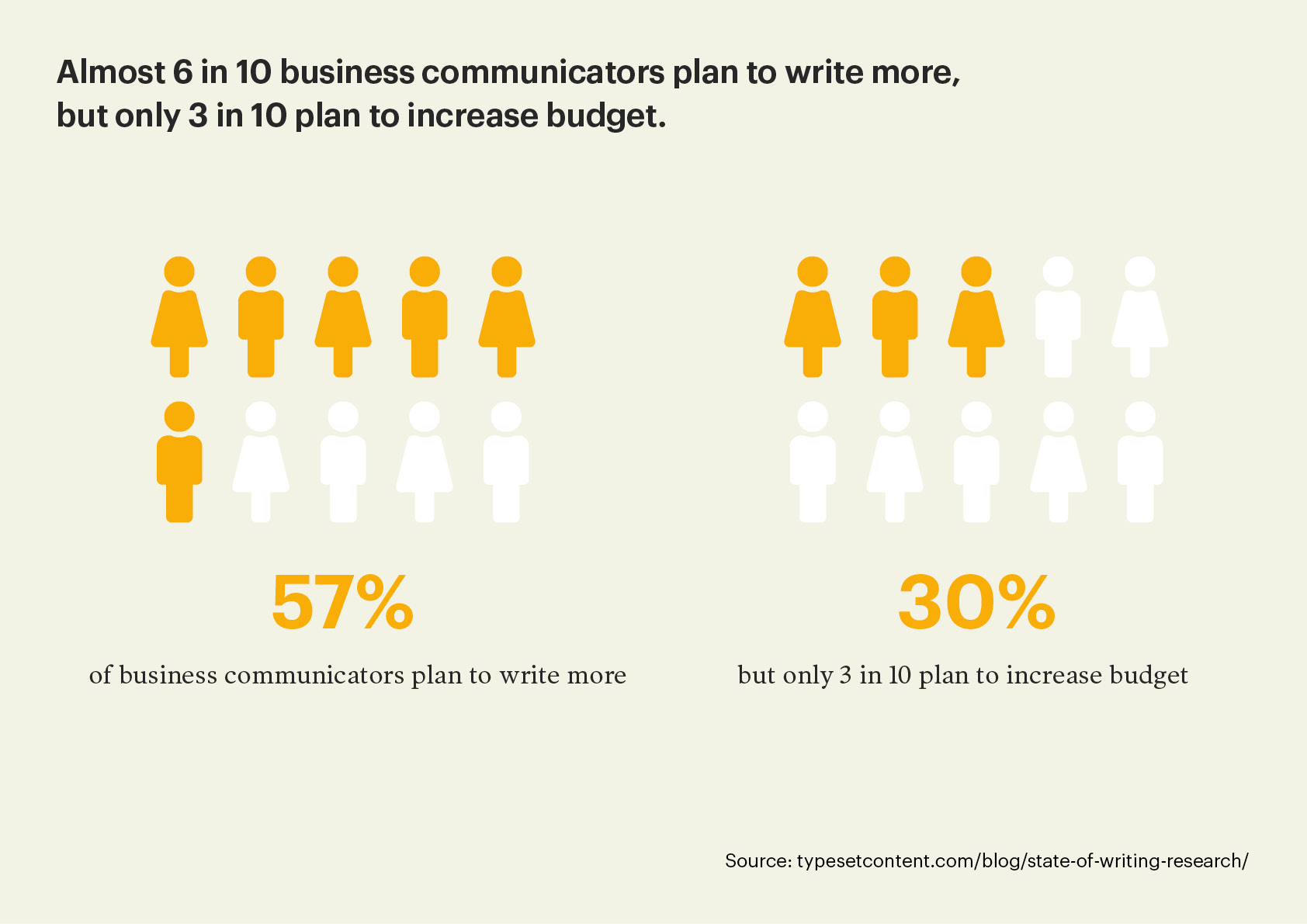 And I was more than a little concerned that, despite this, they're planning on writing more but not increasing budgets to match. Here's why.
Writing is an investment
Remember when everyone talked about how content marketing, especially the social media part of it, was all free? I think we're past that idea now. Business knows writing requires an investment of time and money.
Remember when we were deluged with advice to 'become a publisher'? Or how about 'think like a media company'? I do believe many businesses embraced those ideas, too. Content marketing is now viewed as a legitimate form of marketing.
But one thing missing in the shift to self-publishing and content marketing is editorial rigour. Traditional media, publishing and copywriting has always relied on a system of processes and workflows to guarantee everything published met high standards for quality and accuracy. For business communicators, the research shows that's not happening so much.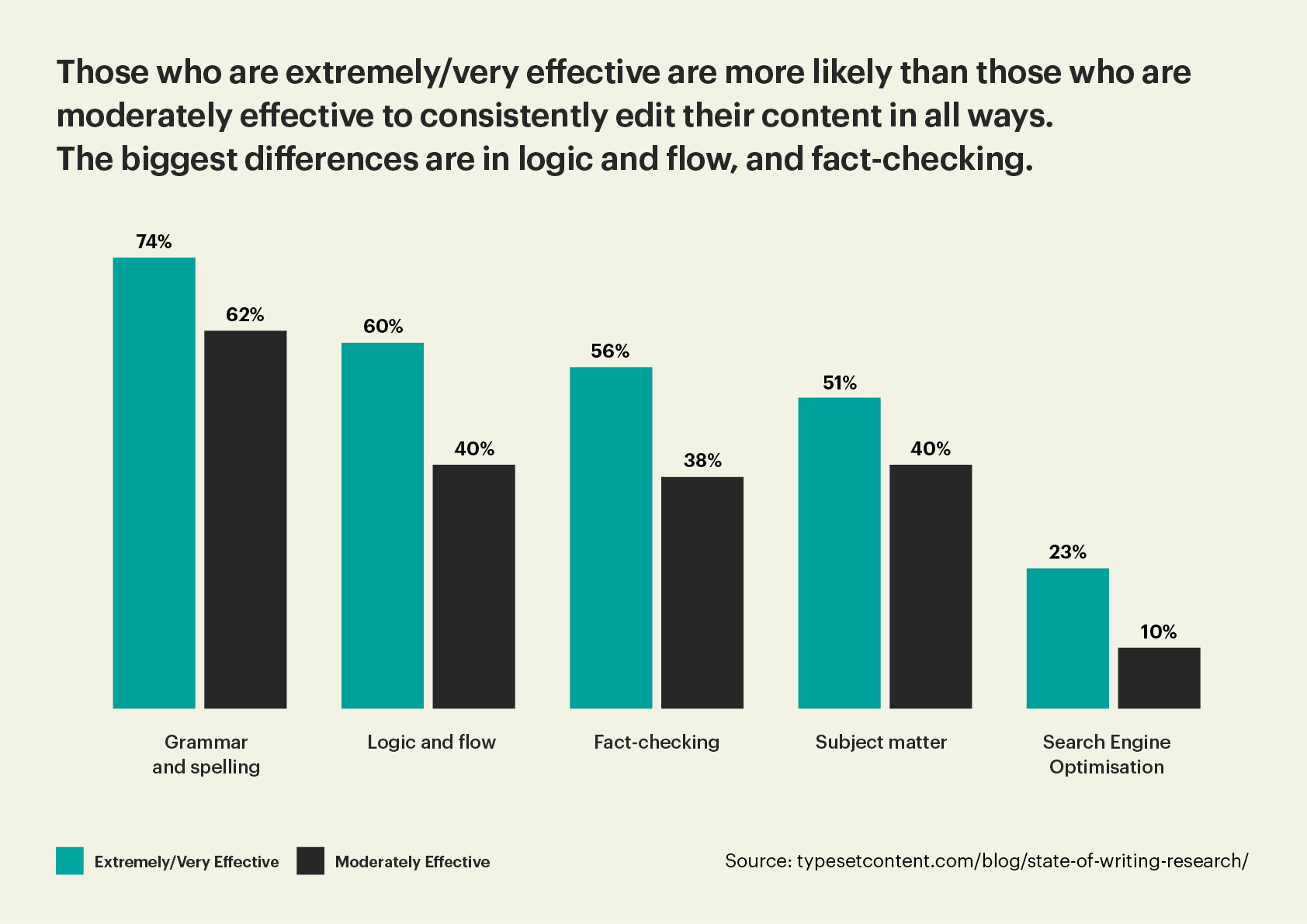 When I learned the biggest gaps in effectiveness occurred in areas having to do with fact-checking and logic and flow, I wasn't surprised. These two things, more than any other, is what we need to build trust with our readers. If the writing we produce doesn't make sense, or it's not accurate, we've wasted the time and money we spent producing it.
Quite likely, we've wasted more than that. We sent a strong message to our customers we're not focused on quality or accuracy. I know when I encounter poor writing, I immediately lose trust with the people who published it and I certainly won't go back for more.
Proofreading provides a competitive advantage
It's one reason why I insist on using a proofreader for everything I publish. Two-thirds of respondents to the State of Writing 2020 survey said the writer proofreads his/her own content. That's risky business, if you ask me. For one, you never catch generalization errors ­ – those errors you don't see because you're too familiar with the writing.
Second, a professional proofreader is trained to find errors you won't know about unless you can dedicate all your time to the English language. And let's face it, most of us writing for business are not doing it as our core contribution to the company.
A proofreader saves you time
Another reason I use a proofreader is because it's one of the best productivity hacks around. That's right; I reckon I save at least 10% of the time it takes to write a blog post, for example, when I proofreader. According to the latest blogging statistics from Orbit Media, the average blog post takes 3 hours and 57 minutes to write, or 237 minutes. By using a proofreader, I know I save at least 24 minutes off the time it takes me to write. That's time I can spend on other parts of my business.
I don't have to worry about whether I have everything perfect; someone else does that for me. I don't have to pore over the Chicago Manual of Style to make sure I've formatted things correctly; that's done for me too. And I certainly don't have to worry about generalisation errors in my writing.

Deep dive: Read my post at Typeset to find out even more reasons why you need a proofreader.
How to increase your writing effectiveness
You can find my initial analysis of the State of Writing 2020 research and download the full report on writing effectiveness here. You can find Mantis Research's analysis here. 
2021 global survey into writing effectiveness is now open: If you'd like to contribute to our State of Writing research for next year, please take the State of Writing 2021 survey. All participants will receive an early copy of the report (before publication).
If you're interested in exploring how proofreading can improve your writing effectiveness, my proofreader is an absolute ace. You can get in touch with me here or drop me a line at Typeset for a quote. Once you start using a professional, certified proofreader, you'll wonder how you ever survived without one.
How do you ensure your writing is hitting the mark with your readers?